Thank you for considering donating to the Livingston Food Resource Center.
We couldn't serve our community without the generosity of our donors.
---
The most effective way to support us in fulfilling our mission is through monetary donations, which are preferred to a traditional food drive, and here is why:
The four pillars of our mission are informed by our nutrition policy, which we invite you to read here. 
Our mission: 

Acquiring and distributing healthful food to individuals and families in need 

Playing a leadership role in developing a strong, sustainable, local food system

Addressing the root causes of hunger in Livingston and Park County

Supporting food-related economic development that drives the creation of jobs. 
As an organization we have more buying power when we purchase in bulk, helping us stretch your donation, dollar for dollar, more effectively. Control over our purchasing helps us execute both our mission and nutrition policy, and be very intentional in who we purchase from (hint: it's local businesses and farmers!). 
We encourage you to consider collecting money to donate to the food pantry, however if a food drive is ultimately the best fit for your organization please read our food drive preferences below. 
---
Please contact Katie Going, the Inventory and Procurement Manager at Katie@livingstonfrc.org to schedule your pick up or dropoff and to see if there are any specific seasonal needs at the food pantry.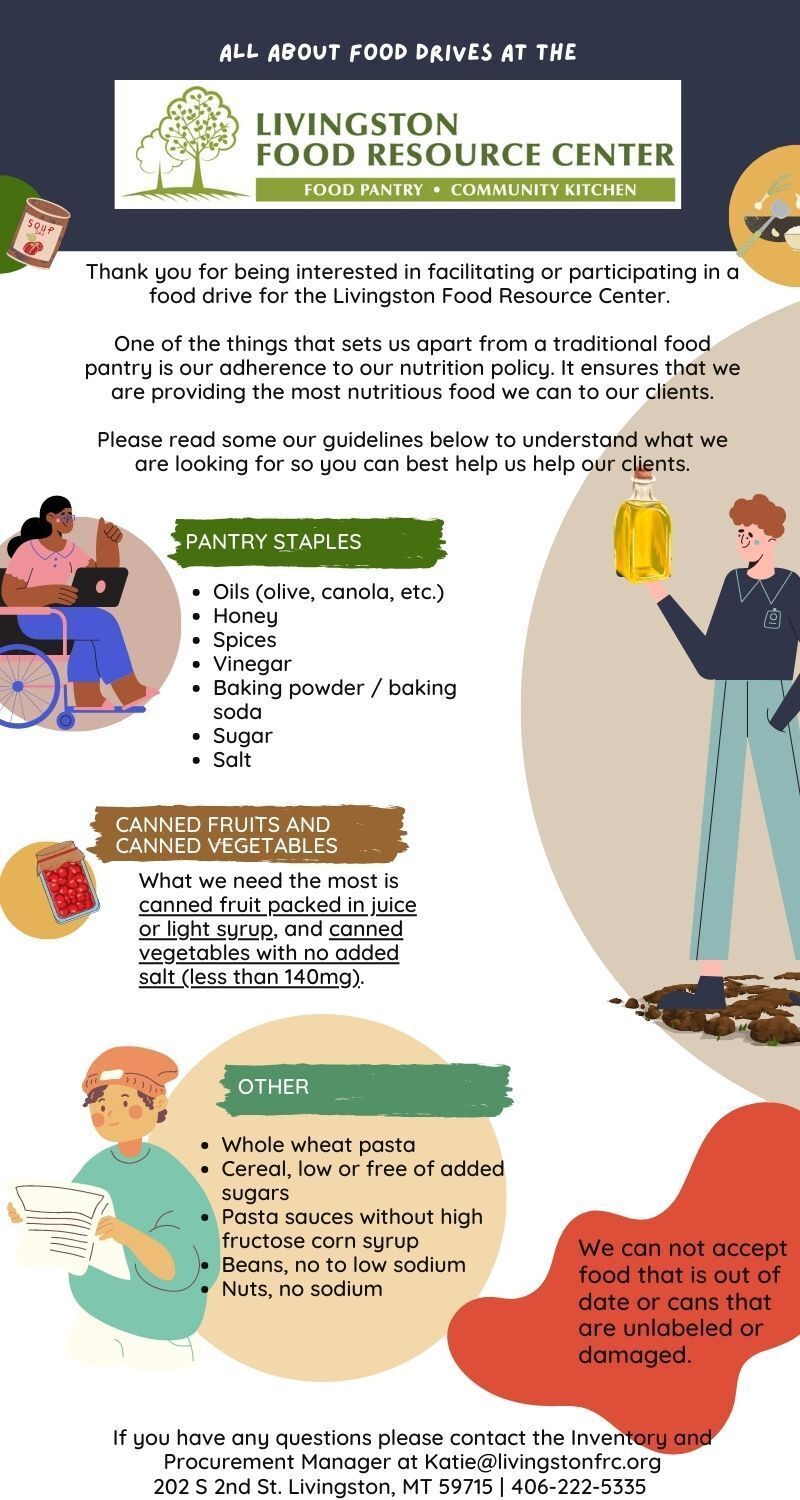 ---
Game meat, fruit, vegetables and eggs from residential and commercial gardens are welcomed.
Hunters donating donating part or all of a harvested animal can receive reimbursement for processing so long as it is done at a licensed processing facility with prior approval from the Hunters Against Hunger program.
To learn more about the Hunters Against Hunger program, which was developed by the Montana Food Bank Network, click here or call the LFRC.