Building a healthy food system through baking
The Livingston Community Bakery is part of the Food Resource Center, so all profits from the bakery will go directly into providing healthy food options to those in need in Livingston, as well as growing our production capacity to assist other communities in need of fresh, nutritious bread across Montana. 
Eat Good, Feel Good
When you make a purchase at the Livingston Community Bakery you are helping the Livingston Food Resource Center fulfill its mission. Not only will you leave with delicious, made-from-scratch baked goods, but your dollars will be used to create training and job opportunities right here in Livingston, purchase goods from local farmers and ranchers, and supply nutritious, fresh bread to food pantries across our state. 
How to shop with us
Our retail hours are Tuesday-Friday 7:30-5:30 and Saturday 7:30-12:00. Stop by and see us!
Call or text 224-8304 to reserve and prepay for our artisan bread, ready at noon for pick up. Skip the worry if your favorite item regularly sells out.
All of us at the Livingston Community Bakery look forward to seeing your smiling eyes once more and sharing the joys of fresh baked bread, muffins, rolls and cookies!
---
OUR TEAM
The LCB team adds a diverse set of skills and experiences to our recipe for success.
---
OUR ROOTS
The bakery is like a sourdough starter.  It started with a simple idea and continues to grow, maintaining the original goodness but changing just a little bit all the time.
Michael McCormick, Executive Director (at the time, now Executive Director Emeritus) for the Livingston Food Resource Center, saw a need and formed an idea…"It's important HOW we help feed people, so the food we're making is good, nutritious food that supports good health,"…A retail baking operation could be self-sustaining, generate funds to support local suppliers, provide job training opportunities, be an outlet for volunteers to participate in and increase bread production. More people and families throughout Montana could receive nutrient-rich bread to replace typical food pantry fare. After successfully securing working capital from generous donations and grants, Michael was ready to add a baker's perspective. Kitchen Supervisor for the Livingston Food Resource Center (at the time, now Community Bakery Director) Vicki Blakeman, already baking breads distributed through our food pantry and other locations in town, was enlisted to put ideas into action. 
The bakery had a false start, having to close after a matter of days due to COVID-19 restrictions in March of 2020. This shutdown provided time for a newly assembled bakery team to work out the kinks while filling online artisan bread orders and perfecting the pantry bread distribution beyond the Livingston area.  The retail store reopened in June, ready for serious business.  Although the job training and volunteer aspects are paused due to the pandemic, the bakery continues to knit itself into the community with each customer.  There is now a brick and mortar bakery, serving world-class artisan bread, and other items, to the growing Livingston community and baking organic, fresh, healthy bread for needy families throughout the region. Cheers to a good idea brought to life!
At the end of 2021 the facility closed for a much-needed expansion. The bakery now operates with additional production areas and a larger storefront, under the continued guidance of Vicki Blakeman, the Bakery Director, and George Peirce, the Executive Director of the Livingston Food Resource Center. 
---
OUR FLOUR
And more...Our bread, baked goods, deli case items and locally made products can only be as good as the ingredients they start with.  We value these local providers who share their best stuff with us.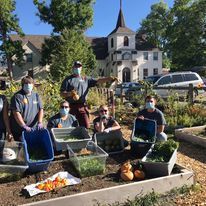 LFRC Lincoln School Community Garden Volunteers and Staff